Our Team
Anju Mishra
Principal – BDS GDC 75378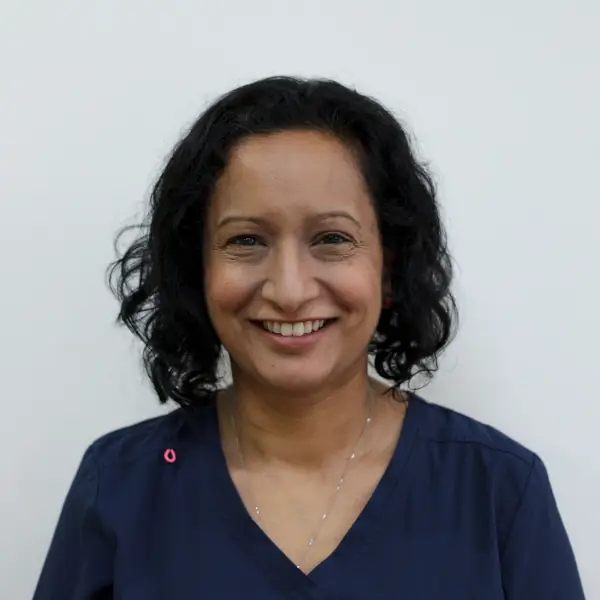 Anju was born and brought up in North Wales, and went on to qualify from the prestigious Guys Hospital in 1998. She worked in Gloucestershire and Basingstoke before taking over Zebon Copse Dental in October 2012.
Over the years, Anju has gained a reputation as a gentle and caring dentist, especially when it comes to nervous patients. She has had many success stories – and regularly has people falling asleep during treatment! Anju believes prevention is the key to looking after and keeping your teeth, whatever your age, and is keen to start the message early.
Outside dentistry, Anju is married to Vidya, and they have a son and a daughter who keep her busy with football, gymnastics and playdates!
Anita Puthran
Associate Dentist BDS GDC 157603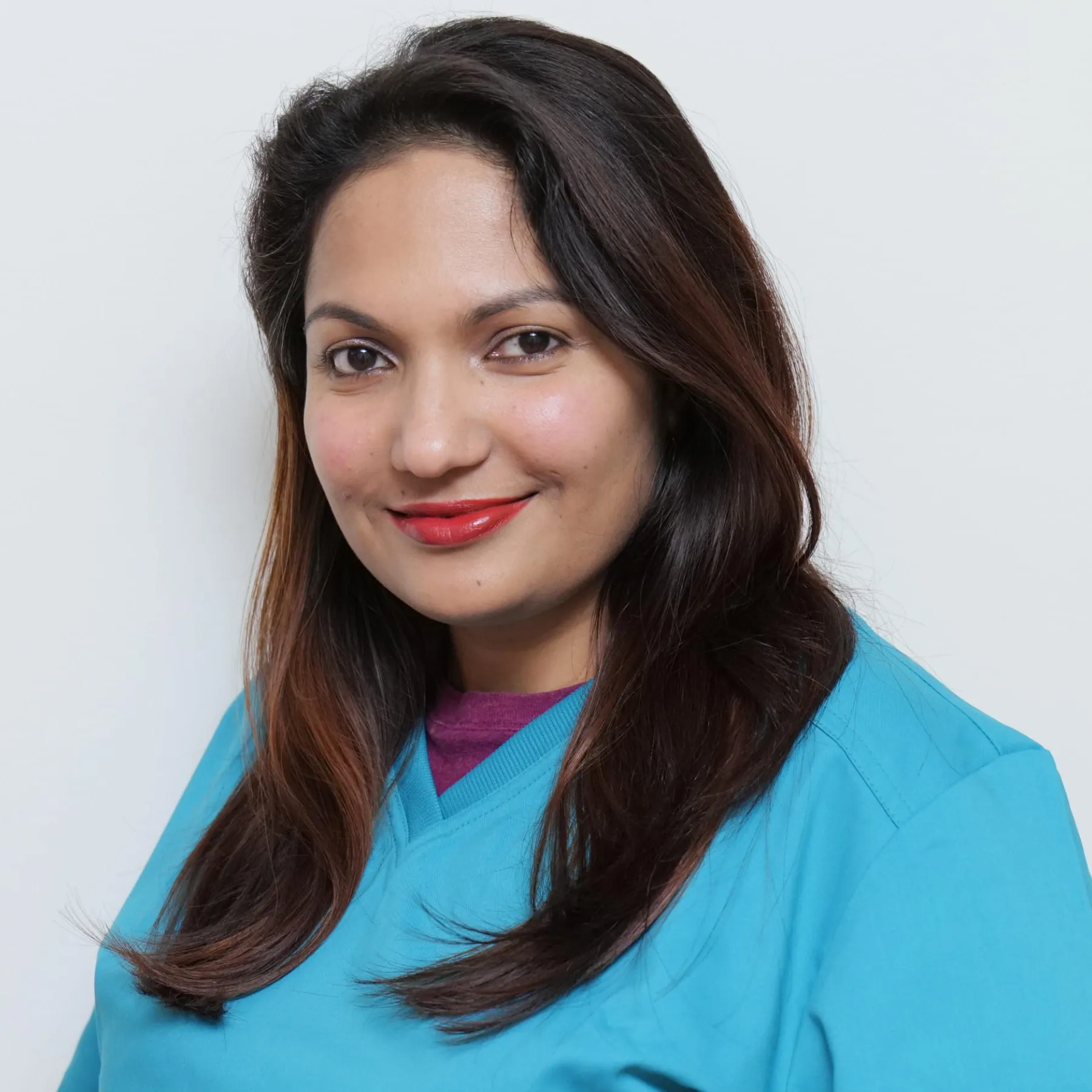 Anita qualified in India in 2004 from the prestigious Rajiv Gandhi University in Bangalore.
Since completing her exams in UK, she has been practising in NHS and Private practices across Oxford, Berkshire and London. Anita has been motivated to continually further her skills and knowledge. She is passionate about her work, and genuinely believes everyone deserves to smile confidently. She is caring, friendly and empathetic, and creates a fun and relaxed atmosphere in her surgery.
Anita has a particular interest in Restorative and Aesthetic dentistry, she has completed a 1 year Postgraduate certificate course in this field. She is also pursuing a 2 year Diploma in this subject.
As a part of the team at Zebon Copse Dental, Anita likes to create bespoke treatment plans, tailor-made to each patient , based on their treatment needs and desires. She goes the extra mile, from in depth discussions regarding the condition of your teeth and options available to you, to providing treatment in a relaxed atmosphere, which makes it easier for anxious and nervous patients. In her spare time, Anita likes swimming, is an avid reader and loves to cook and travel.
Cyrus Kerawala
Professor – GMC 3584352, BDS (Honours), FDSRCS (Eng), MBBS (Honours), FRCS Ed, FRCS (OMFS)
Cyrus Kerawala graduated with honours degrees in both medicine and dentistry from the University of London. During his combined time as an undergraduate he was awarded 14 prizes. He passed the Intercollegiate Examination in Maxillofacial Surgery in September 1998 and has been on the specialist register of the General Medical Council since August 1999. Cyrus was appointed as a Consultant at the Royal Surrey County Hospital in Guildford and North Hampshire Hospital in Basingstoke in 1999 before joining the head and neck unit at the Royal Marsden Hospital in 2008. He is the current Head of Department.
In 2021 Cyrus was awarded a prize by his national association in recognition of his lifelong national and international contribution to patient care. In addition, he has appeared in the Time newspaper as one of Britain's top 50 surgeons. He is the current President of the British Association of Oral and Maxillofacial Surgeons.
Cyrus is author of a textbook on Maxillofacial Surgery and has written numerous chapters in other books. He has authored over 100 peer-reviewed publications and has contributed to three national guidelines. He devotes a significant amount of time to teaching, professional training and continuing medical education. He has presented over 120 papers at international and national meetings, and has been invited to lecture throughout Europe, the Middle East, America, Africa, Asia and Australia.
Cyrus has been carrying out complex oral surgical procedures for over three decades and in that time has placed over dental 1,000 implants. He combines professionalism with a relaxed atmosphere focussed on patient care.
Aleksandra Kowalczyk
Aleks worked as a dental nurse for 7 years before studying and the qualifying as a dental hygienist. She loves being able to deliver the highest standard of treatments to her patients but takes particular pride in making nervous patients feel comfortable and relaxed during their visit. Aleks very much enjoys travelling but also finds great pleasure in the simple things in life: cooking, spending time with friends and family- and her two cats Cookie and Lucy.
Gillian Singh
I qualified as a dental nurse in 1994 in Belfast, and a hygienist in 1996, moving to England in 1997. I have a passion for helping patients to achieve their best in oral health, and I take particular pride in providing a high standard of treatment, and especially helping anxious or nervous patients with my kind and caring nature. I'm married with 2 lovely boys, and also find time to enjoy running many half marathons and races.
Natalie Stimpson
Natalie lives locally in Hartley Wintney with her husband and cat, Albert. Natalie has been at Zebon Copse Dental for over 15 years so is really part of the dental furniture! She has a BTEC National Dipolma in Dental Reception. Natalie will be the first person you see as you come in for your appointment, she will make you feel comfortable and at ease before you see Anju or Julie or both!
Suzanne Stacey
I started my dental career as a receptionist in 1998 and qualified as a dental nurse in 2002. I moved back to Fleet in 2021, and am so happy to be a part of the Zebon team, welcoming patients and making their appointments a happy and comfortable one. My weekends are spent walking my dogs, Maisie and Halle, and catching up with friends and family.
Lorna Amey
Dental Nurse and Receptionist GDC 138493
I started my dental career in 1987 as a dental nurse.  Since then I have continued to nurse as well as working on reception.
I am married with 2 daughters, a grandson and a cocker spaniel.  I'm happy to be joining the Zebon Dental team.
Opening Hours
Our Usual Opening Times
| | | |
| --- | --- | --- |
| | Practice Hours | Clinical Hours |
| Monday | 9.00 to 17.00 | 9.00 to 17.00 |
| Tuesday | 9.00 to 17.00 | 9.00 to 17.00 |
| Wednesday | 8.00 to 17.00 | 8.00 to 17.00 |
| Thursday | 9.00 to 19.00 | 11.00 to 19.00 |
| Friday | 9.00 to 14.00 | 9.00 to 14.00 |
We understand that not everybody can attend dental appointments during the working day. In order to provide you with more flexibility, we open early mornings and late evenings.
Cancelling Your Appointment
We appreciate 48 hours notice if you are unable to attend an appointment. Our answerphone is always available to leave messages outside of normal working hours. If an appointment is missed or cancelled with less than 48 hours notice, you will be charged for the missed time.