5 Benefits of Tooth Whitening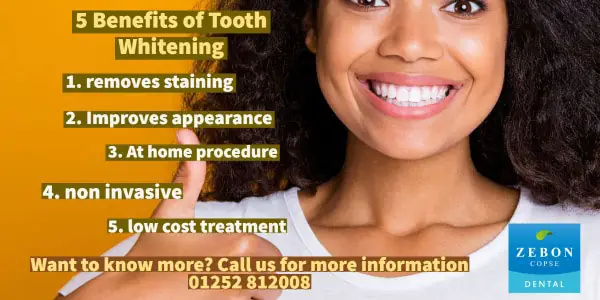 Did you know as part of our Oral Health Exams here at Zebon Copse Dental we offer free tooth shade exams. Anju will record your tooth shade and let you know what shade you could potenially get too with tooth whitening. Ever wondered what the benefits of tooth whitening are?!? Interested?!?
Here are the 5 simple benefits of tooth whitening:
1. removes staining – food, tea & coffee stain our teeth over time and after whitening will improve instantly. Teeth whitening will help combat stains of your everyday food and drink.
2. improves appearance – one of the huge benefits of professional tooth whitening it instantly give your brighter, more appealing smile.
3. non invasive – there is no drilling or altering, custom made trays are made from simple impressions done in the dental practice and the whitening syringes used are safe and effective.
4. at home procedure – it can be done in the privacy of your own home. We offer two types of whitening syringes: day white (only needs to be worn for 1 hour) or night white (worn over night for a minumum of 4 hours). The custom trays are made to fit your own teeth rather than over the counter ones which usually don't fit.
5. low cost treatment – when it comes to cosmetic treatment this is a relatively cheap way of improving your smile.
Call us on 01252 812008 or e-mail us [email protected] to get yourself booked in today!